Social Events
There's nothing we like more at Time4Dance than a good social event whether that be meeting up for a meal, trips to the theatre, one of our friendly practise social nights or the ever popular tea dances and party nights.  If you have a suggestion for a good social event please mention it to Debbie.
'A group of Time4Dance members 'stepping out' at the Vaudeville Theatre'
Christmas Ball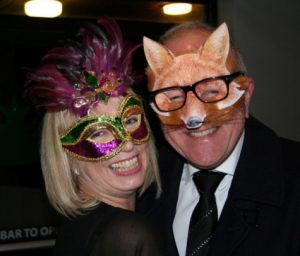 All are welcome at our annual Christmas Ball.  A great opportunity to dress up, socialise with friends, practise what you've learnt and dance the night away.  These events often include a live band or cabaret and are extremely popular so ensure you book your tickets early.
Christmas Ball – 'Debbie and 'Foxy dancer Laurence' at the Masquerade Ball'
Tea Dances
What nicer way to spend a relaxing Sunday afternoon than at one of our super popular tea dances!  These are held throughout the year at the beautiful Highwood Village Hall with plenty of time for dancing and catching up with friends over tea and homemade cake. Our next tea dance is our Anniversary Tea Dance on Sunday 23rd October 2022.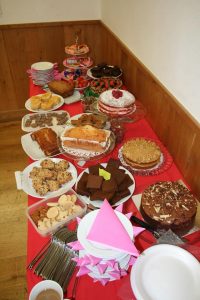 'Fabulous cakes made by our talented dancers'
Diary Dates:
Anniversary Tea Dance – Sunday 23rd October 2022.
Christmas Ball with Roger Chinery and the Ballroom Dance Band and Singers – Saturday 10th December 2022.